I have had this Rachel Ray Cookbook (Yum-O) since high school: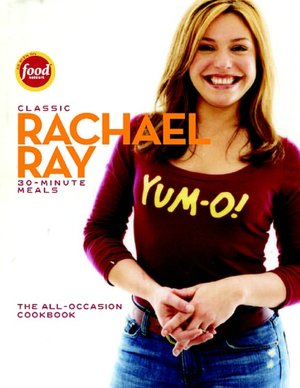 The recipes all sound great, but for some reason, I never seem to make anything out of her cookbook (one reason may be the multitudes of cookbooks I have to chose from).
I wanted to find a classic chili recipe, so I figured Rachel would be a good person to start with. I chose her "Cajun Chili with Scallion Corn Cakes" recipe.
However, I should say up front I did NOT like the results the first day. I didn't start to really enjoy this chili until day two, and then something changed and the chili was delicious. So if you are planning to make it for some event (Super Bowl Sunday?) then I would suggest making it a day or two in advance.
I also made a few adjustments, so the first section of ingredients is what Rachel calls for and the second set are what I added.
See BELOW Cajun Chili recipe for Scallion Corn Cakes - these were my favorite takeaway from making this meal.
Ingredients for Cajun Chili:
Rachel's
1.5 pounds lean ground pork
1 Tablespoon chili powder
1 Tablespoon ground cumin
4 shakes cayenne pepper sauce (Frank's Red Hot or Tabasco)
1/2 medium yellow onion, chopped
2 cloves garlic, minced
1 rib celery, chopped
1/2 red bell pepper, chopped
1/2 green bell pepper, chopped
1/2 bottle of beer
1 can (14oz) crushed tomatoes
handful chopped fresh cilantro
Kosher salt, to taste
Kelsey's
First of all, I think using half of a vegetable is a waste because odds are I will be eating chili for the next week and will have nothing to use the vegetables in. Also, more vegetables means healthier chili, so why not? I used the WHOLE onion, red pepper and green pepper. I could also only find a 28oz can of tomatoes, so I used all 28 ounces. I used the entire bunch of cilantro.
The only "use the whole thing" I would be careful about is the beer. I used a whole bottle of beer and it definitely had a distinct taste. Like I said above, this mellowed out after a few days. However, if you are serving immediately, definitely be cognizant of how much beer you use. Maybe just drink the leftover while you are cooking.
I also added:
Another Tablespoon chili powder
1 minced jalapeno
MUCH more Tabasco (and I don't even care for spicy things)
1 lime
half cup quinoa (note that if you don't use the slow cooker method, you will want to cook your quinoa first and then add it. My quinoa wasn't fully cooked until the morning after I used my slow cooker)
Instructions for Cajun Chili:
1) Heat a big pot over high heat (I used a deep set saucepan type pan, but a pot would work too. Use whatever you want to make the chili in). Yes, use high heat. I was scared but it worked.
2) Add your pork to the pot. Season with chili powder, cumin and cayenne sauce. I couldn't believe this is called Cajun chili and only called for four dashes of hot sauce. I added plenty more while cooking and it didn't taste hot at all. I don't even like things spicy but kept adding hot sauce. So my point is add your hot sauce to taste.
3) Brown the meat for 5 minutes.
4) Add onion, garlic, celery, bell peppers, jalapeno, and lime juice. Cook, stiring/shaking the pan, for 3 or 4 more minutes.
5) Add the beer and stir everything together, scraping the bottom to get the burned bits. Add tomatoes and cilantro, plus quinoa if using (remember, pre cook the quinoa if you are not going to use a slow cooker). Bring to a boil and season with salt.
Essentially, your chili is done here. However, I then added the whole mixture to my crockpot and let it cook overnight. I don't know the difference in taste, but it turned out great.
Rachel's Scallion Corn Cakes:
Ingredients:
1 package Jiffy corn bread mix
1 egg
Milk
2 scallions (I prefer more like 4)
Butter/vegetable spray
Instructions:
Follow the instructions on the jiffy box for making corn pancakes, but add scallions to the mix. I bunched my scallions up and used scissors to cut them right into the bowl.
Then, depending on what occasion and who you are serving, make the appropriate size scallion corn cakes. For instance, if you are serving a lot of people small servings, make small corn cakes. If this is a meal for your family, make them larger.
The way I like to eat them is the crumble them up into the chili and mix it in. However, if you master the art of pancake making, I bet you could make them look really pretty and masterfully display them on top.
Either way, I GREATLY prefer the corn cakes to corn bread. I am not sure exactly why - maybe the texture? They taste awesome and are really easy to make.
When cooking mine, I did about 3 minutes on the first side and two minutes on the other side. Be careful though...the smaller you make them, the quicker they cook and they get easier to burn.
To serve my chili, I melt in cheese, add sour cream, and crumble in a corn cake. Voila!